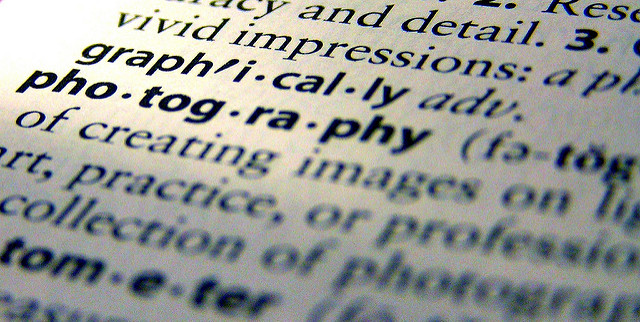 This article is focusing on common Canon fit photography terms, acronyms, & abbreviations, which are used on Canon lenses. In addition other brands as well, such as Sigma and Tamron, that can be used on Canon digital cameras.
Common Canon Abbreviations
SLR – single-lens reflex camera – typically uses a mirror and prism system (hence "reflex" from the mirror's reflection) that permits the photographer to view through the lens and see exactly what will be captured.
Digital SLR or DSLR – a digital camera that combines the optics and the mechanisms of a single-lens reflex camera with a digital imaging sensor, as opposed to photographic film.
Canon FL lens mount – FL fit was before 1964.
Canon FD lens mount FD fit was before 1987.
EF mount was introduced in 1987.
EF – electronic focus.
EF-S (introduced in 2003) designed for EOS DSLR models with a compact sized sensor – APS–C (Advanced Photo System Cropped frame) sensor size – lenses lighter and smaller, greater wide-angle choice.
RF mount (introduced in 2018) implements a 12-pin connection between the camera and the lens, a 50% increase over the 8 pins found on the EF mount. Along with more data channels, provides higher speed data transfer for extremely fast AF, enhanced image stabilization and image quality optimization. Canon EF and EF-S lenses can be used on cameras that have the RF mount with mount adapters.
EF-M (introduced in 2012) – more compact compared to the EF and EF-S range, designed exclusively for use with EOS M cameras.
IS – image stabiliser (Canon).
L – Designation for Canon's professional line of lenses. While more expensive than consumer-grade lenses, these are compatible with Canon Rebel cameras and all use the Canon EF mount. If the lens has a red line, the lens is part of Canon's L series.
AFD – Arc-Form Drive is the first autofocus motor used in Canon EF lenses. Louder and slower than USM motors. Slower reaction time and no full-time manual focus override. If an autofocus Canon lens has no indication on its barrel what sort of AF motor is used, it is either AFD or MM.
MM –Micro Motor -the least advanced AF motor used in Canon lenses along with AFD. It is a smaller version of the AFD motor. MM is only used in the cheapest Canon lenses, like the EF-S 18-55mm f/3.5-5.6 IS II kit zoom. Does not allow full-time manual focus override like the more sophisticated USM systems do. If an autofocus Canon lens has no indication on its barrel what sort of AF motor is used, it is either MM or AFD.
STM – Stepping Motor – The inclusion of the STM motor allows the camera to focus smoothly and quietly while shooting video and particularly so when using Canon DSLRs equipped with Dual Pixel AF systems. This motor also allows quick AF speeds during still image capture.
USM – Ultrasonic Motor – The inclusion of an ultrasonic motor makes the lens focusing fast and quiet.
DN – lenses designed for compact system cameras.
DO – Diffractive Optics lenses are built to the same exacting standards as L series lenses, but these are designated with a green ring around the lens barrel instead of a red one.
TS-E – lenses with tilt and shift functions,
MP-E – it is a is a prime lens, there is physical extension is because it focuses very close. MP-E focuses from life-size to 5 times life size, provides closer images than macro.
PL mount (Positive Locking) mount or Arri PL – lens mount developed for cinema lenses.
CN-E – cinema lenses for Canon Cinema EOS (Cinema Electro-Optical System). Prime lenses are available with an EF mount, while the CN-E zoom lenses are available in either EF or PL mount. The biggest visual difference between EF and CN-E lenses is that the cinema lenses have gearing around them that allows the focus and aperture to be easily and smoothly controlled via a follow focus or remote control.
I, II, III – designates which version of a Canon lens to distinguish the older model from the newer one.
Read more about Photography Glossary.
Common Sigma Abbreviations
Sigma makes their lenses in a variety of mounts, including Canon (also Nikon, Pentax, Sony/Minolta, some Olympus, and even their own Sigma SA mount).
They backwards engineer the mount and do not pay a license to Canon, so they generally do not use the term "EF" but instead label it as "Canon AF".
They do not make any lenses using the EF-S mount. Instead, their digital lenses for the "crop" cameras are labelled "DC" and will fit any EF or EF-S mount without interference. So unlike the EF-S lenses, Sigma DC lenses can be used on the older non-EF-S models like the D30/D60/10D.
AF – Autofocus
ASP – Aspherical Lens Elements. A type of lenses that virtually eliminates the problem of coma and other types of lens aberration. They are particularly good at correcting distortion in wide-angle lenses as well as contributing to a lighter and smaller lens design.
APO – Apochromatic lenses. Uses special low dispersion glass for minimum colour aberration and telephoto quality improving contrast and sharpness. APO Zoom Marcos offer up to 1:2 magnification (one half life-size) in the telephoto range with instant shifting from normal to macro shooting. APO Tele-Macros offer a 1:2 image size close focus, when the macro switch is engaged the zoom control ring is fixed at the telephoto end.
CONV – These lenses can be used with the APO Teleconverter EX. It can increase the focal length and will interface with the cameras automatic exposure function.
DC – Lenses designed for APS-C DLSR cameras. Lenses which have been designed so that the image circle matches the smaller size of the image sensor of most Digital SLR's. Also compact and lightweight.
DG – Lenses compatible with full-frame sensor DSLR cameras. Large aperture lenses with wide angles and short minimum focusing distances. Have peripheral illuminations so are the ideal lenses for Digital SLR cameras, but are still suitable for 35mm SLR's.
DF – Dual Focus. Disengages the linkage between the internal focusing mechanism and outer focusing ring when in the AF position. Allows holding of the lens as the focusing ring does not rotate during auto-focusing, but gives an adequate focusing torque of the focus ring when manually focusing the lens.
DL – Deluxe. Full-featured lenses and come with a custom lens hood, feature half stop increments on manual aperture settings, depth of field scale, distance scale, infrared correction mark.
EX – Excellence. Used to define professional type lenses, it denotes a superior build and optical quality.
HF – Helical Focus. Eliminates front lens rotation, allowing the use of a perfect hood and easy to use polarising filters.
HSM – Sigma's designation for Hypersonic Motor. Uses a motor driven by ultrasonic waves to provide quiet, high-speed Auto Focus. Virtually silent, highly responsive auto and manual focusing.
IF – Inner Focus. The lens is able to focus without physically changing its size, where optical movement is limited to the interior of the non-extending part of the lens barrel, allowing for a more compact and lightweight lens as well as closer focusing distances.
MACRO – Used on those lenses which have the ability to be used for close up (macro) photography. Some will have a magnification ratio of 1:3 focusing at 50cm, such as some of their standard Zoom lenses.
OS – Sigma's designation for Optical Stabiliser. Has a built-in mechanism that compensates for camera shake. Alleviates camera movement when shooting by hand held camera.
RF – Rear Focusing. A system where all the lens elements are divided into specific groups, with only the rear group moving for focusing, making the auto-focus operation smoother and faster.
UC – Ultra Compact. The smallest, lightest lens of its type.
ART – Designed to emphasize creative expression above compactness and multi-functionality
MC – Sigma Mount Converter
Common Tamron Abbreviations
ASL – lenses use one or more aspherical lenses.
DI – Digitally Integrated Design
Di
Digitally Integrated Design – A Generation of lenses designed for optimized use with digital SLR cameras.
Di II – Lenses for APS-C sized sensors only. They are constructed for the exclusive use on digital SLR cameras with smaller-size imagers (Canon EF-S size – max. 16 x 24 mm)
Di III – Lenses for compact system cameras. They are engineered specifically for mirrorless interchangeable-lens cameras. They cannot be used with digital SLR cameras with a built-in mirror box or with conventional SLR cameras.
PZD (Piezo Drive) – it has a piezo drive motor. Read more here.
USD – it has a high-frequency Ultrasonic Silent Drive motor, enabling speedy, silent autofocusing.
XR – Extra Refractive Index Glass Technology. Gives Tamron lenses better performance and allows them to have more compact designs.
Read more about Tamron abbreviations in Tamron glossary
Example:
Canon EF-S 18-55mm f3.5-5.6 IS II DSLR Lens Black
This is a cropped frame sensor Canon electronic focus lens (EF-S) with image stabiliser (IS), 2nd version of the model (II)